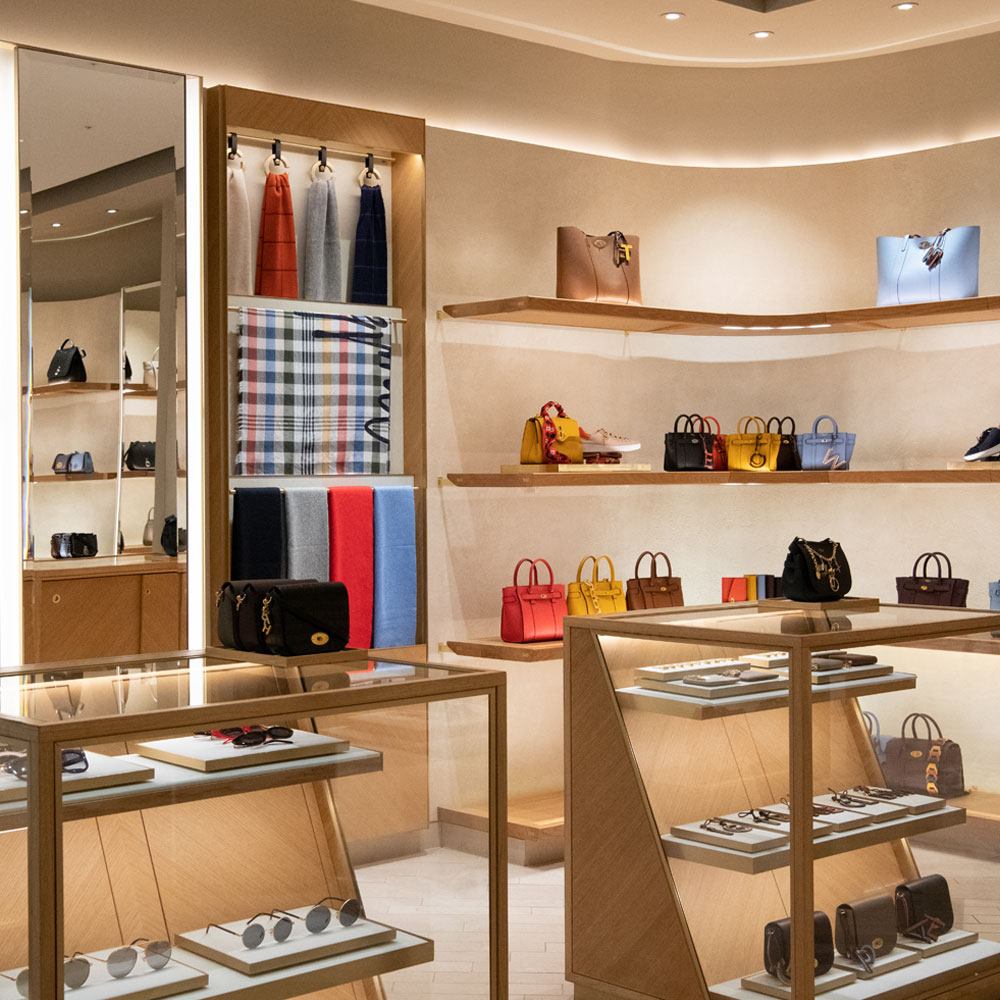 Mulberry Selects MWC Partners for Retail-J Services and Support
23 Sep 2019
In summary:
Mulberry's incumbent support provider struggling
MWC Partners brought in to resolve technical and support issues
Following successful resolution, support contract with MWC Partners signed
MWC Partners awarded contract for hardware refresh and new store rollouts
Confidence in MWC Partners grew and led to signing of 3-year support contract
Leading British lifestyle brand, Mulberry, has been internationally acclaimed for the quality of its design and manufacturing for more than forty years. Most notably known for luxury handbags and small leather goods, Mulberry combines British craft with an innovative fashion character. The Mulberry Group is based in Somerset and London, with operations that span design, development, manufacturing, marketing and retail – all infused with the creativity and innovation the company is known for and which keeps the brand at the forefront of lifestyle fashion.
Getting Retail-J Support Right
IT is central to delivering Mulberry's strategy and the group has invested significantly in this area. Operations are divided between two core functions: a projects team with responsibility for delivering new initiatives, and a support team responsible for maintaining the company's IT systems – the latter headed by Daren Harris, Head of End User Support.
Daren has worked in luxury retail for 20 years, and with the last 8 for Mulberry, he has extensive knowledge of the company's systems. He first became involved with store systems during the original implementation of Retail-J in 2014. As part of that project, Mulberry signed a contract for Retail-J services and support with a third party provider, but by 2017 they found their supplier was struggling. "We were having major problems with our provider", Daren explains. "They had invested heavily in Retail-J services but they weren't supporting it properly."
Mulberry knew they needed external advice. One of Daren's colleagues had received an email from MWC Partners, offering Retail-J services and support, and so they invited them in for a consultation.
"It was clear they understood the issues we were facing. We were impressed with their background and understanding of the industry, and their phenomenal depth of knowledge, and they seemed to be key players who had been around a long time."
In December 2017, Mulberry instructed MWC Partners to investigate the persistent technical support issues at their highest revenue and high profile Bicester store. As MWC Partners worked over the Christmas period and started to provide fixes, Mulberry's confidence in MWC Partners grew, and led to a request for a configuration review of Retail-J.
In parallel, Mulberry continued to work with their existing support provider, but as the months passed and problems persisted, they began to lose confidence in them. Eventually staff at their Bicester store refused to call the support line, knowing there was little likelihood of an effective resolution. Daren recalled; "Our stores kept saying to us; 'You need to give us an alternative.'"
With the recurring technical support issues at the Bicester store now resolved, and staff reporting a major improvement in service level and renewed confidence in Retail-J, Mulberry decided to award MWC Partners a contract to provide 1st, 2nd and 3rd level support at the Bicester store as part of a six month trial.
"Immediately we found the service level to be excellent. MWC Partners took the bulk of the support burden away from us and I felt wholeheartedly that we could rely on them without having to be concerned about what they were doing."
In fact, news of the new support service reached Regent Street where a new flagship store was planned. One of that store's new employees, who had been recruited from the Bicester store and had seen at first hand MWC Partners' work to resolve technical issues, firmly requested that support at Regent Street be provided by MWC Partners, and so the trial contract was extended to include support for the flagship store as well.
Moving forwards
With day-to-day business operations now properly under control, Daren's team could turn their attention to other pressing projects.
Early in 2018 Mulberry signed a contract with MWC Partners to supply and install hardware for a pilot as part of a planned hardware refresh of the store estate. MWC Partners recommended Aures Yuno POS devices, with their combined CPU and capacitive touchscreen system – reliable machines that do away with the base units and which are competitively priced. MWC Partners applied learnings from the remedial work done at Mulberry's Bicester store and built and installed a new gold load of the software.
Following the successful single store pilot, Mulberry had a proven and reliable system configuration ready for rollout to the store estate. They subsequently awarded MWC Partners the contract for retail IT services including the full UK rollout.
Mulberry have also contracted MWC Partners to supply and install systems for their 'Sample Sales' – pop-up shops rented in high footfall locations set up for a week at a time to sell through sale items.
For these events, MWC Partners procure hardware, build and install a gold load of the software, deliver the system to store, connect it to Mulberry's network, test it and set it up ready for trading. Technical and operational support is provided during the sale online and by phone. Following the sale MWC Partners take the system away and put it back into Mulberry's buffer stock.
With the success of these pieces of work, each small projects in their own right, Mulberry's confidence in MWC Partners' capabilities had grown, leading in March 2019 to the signing of an estate-wide three year support agreement for 1st, 2nd and 3rd level support and managed services.
MWC Partners' managed services and Retail-J support includes pro-active measures, where systems are actively monitored to ensure that all POS devices are constantly connected, checks on transaction processing that ensure sales data is received and processed correctly, and that all required look-up resources are up-to-date and online with no latency. "We've always felt that we were in safe hands", continued Daren. "Once we had the experience of MWC Partners' support at our Bicester store, there was never any doubt we were going to work with them."
"What I love about MWC Partners is they don't just want to put a plaster on something, they want to find out the cause of the problem because in the long run it helps us and it helps them. The more we rely on them, the more the future sits with them. They've been exemplary at everything we've challenged them with. They always work tirelessly to find an answer to problems. Our experience has been fantastic so far and I don't see that changing."